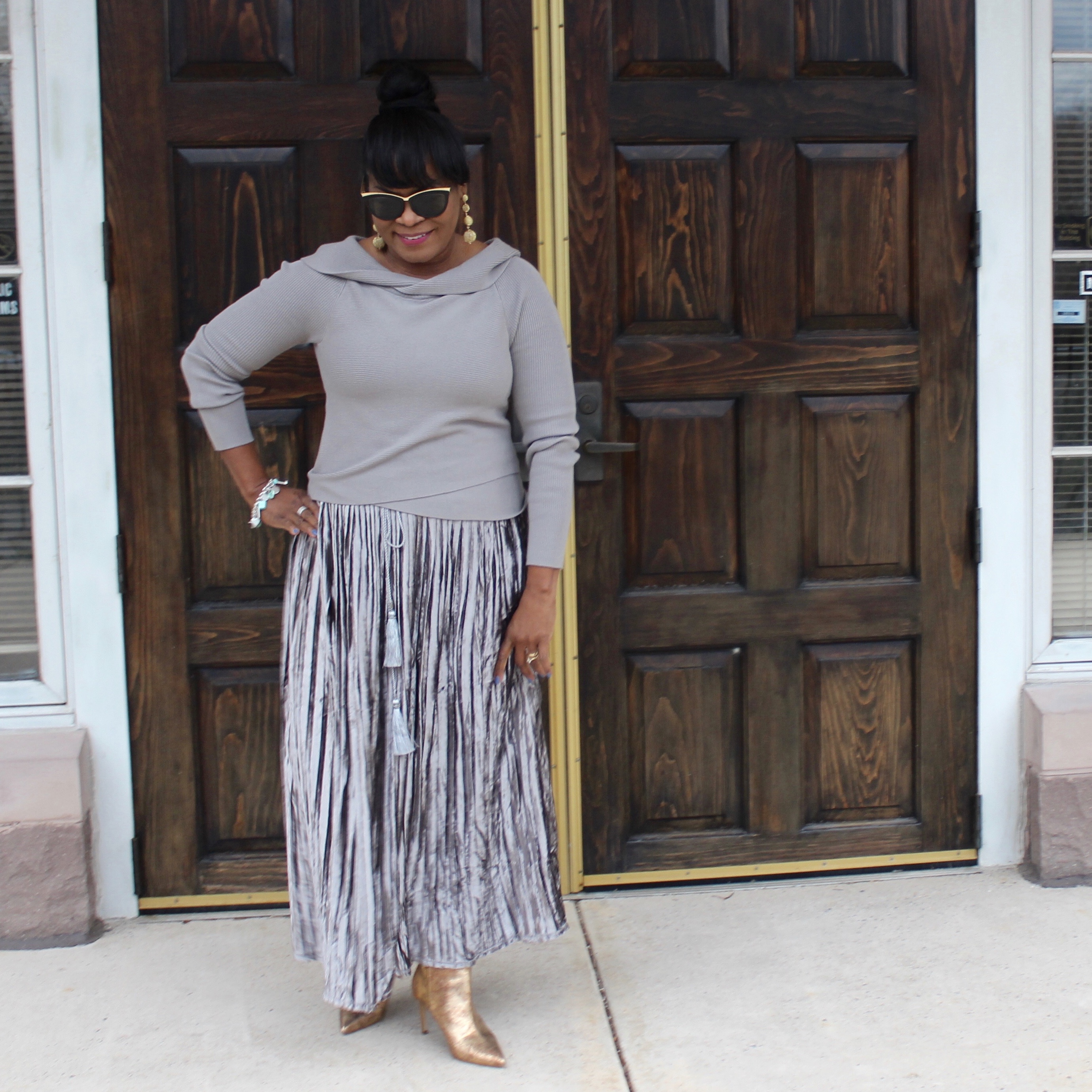 Anyone else crushing on velvet? One of this season's hottest trends right now, velvet and pleats. Both perfect looks to incorporate for the upcoming holiday season. For me, this fashion trend is a marvelous way to amp up a basic outfit and be festive. Please read on to see why I'm now ready to shimmy into Christmas with the Soft Surroundings Vivian Velvet Pleated Maxi Skirt.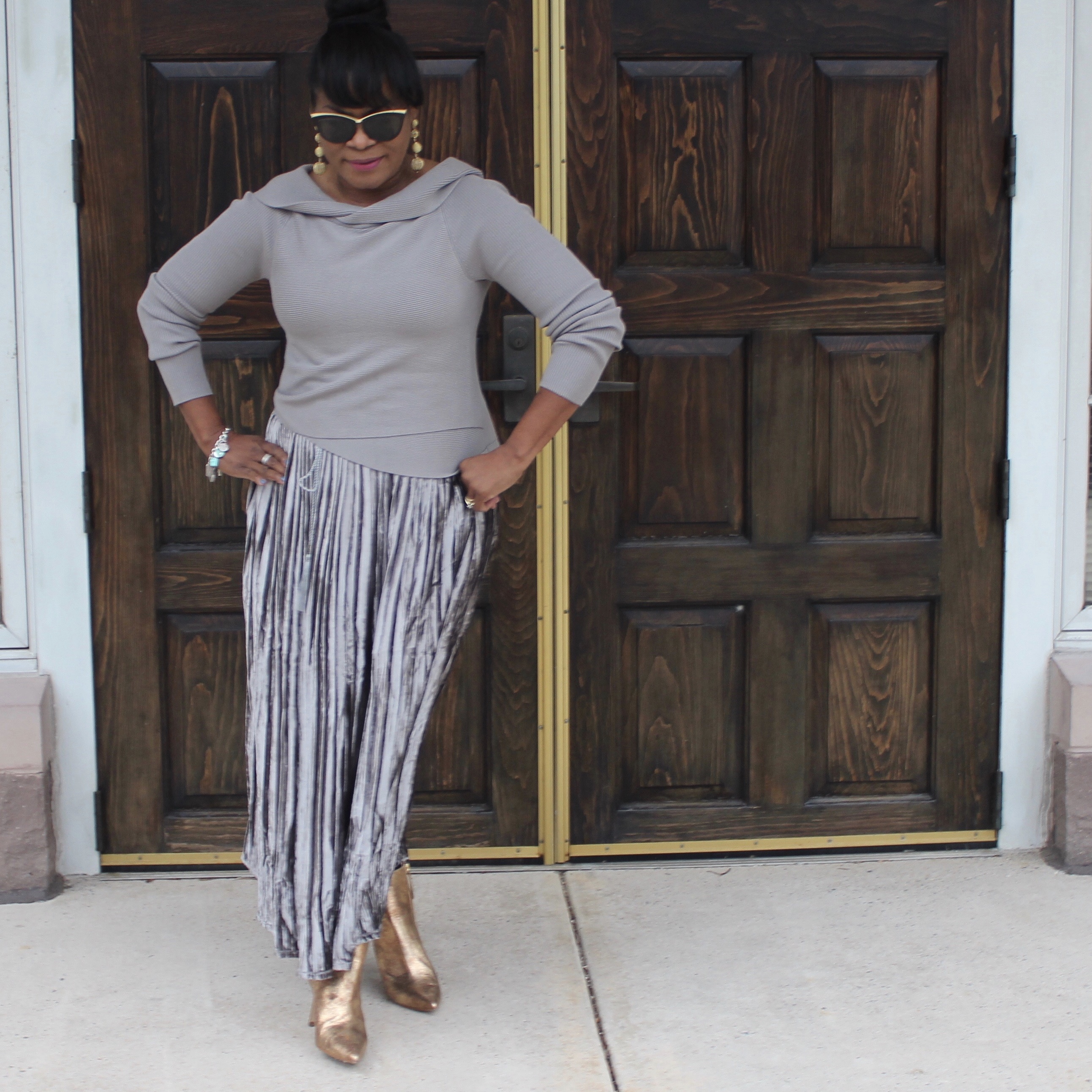 You may recall, I only discovered Soft Surroundings September 2017 through a blog collaboration. At that time, I found the perfect outfit to ease into fall. Remember, the beautiful silk convertible navy tunic with white leggings? Headed to an island or warmer climate this holiday? The chic tunic and comfortable leggings are still available to purchase.
From the Instagram comments, I received regarding that selection. Apparently, I was the only one late to the Soft Surroundings (SS) Party. Many already familiar with SS, even my dental hygienist knew about the brand.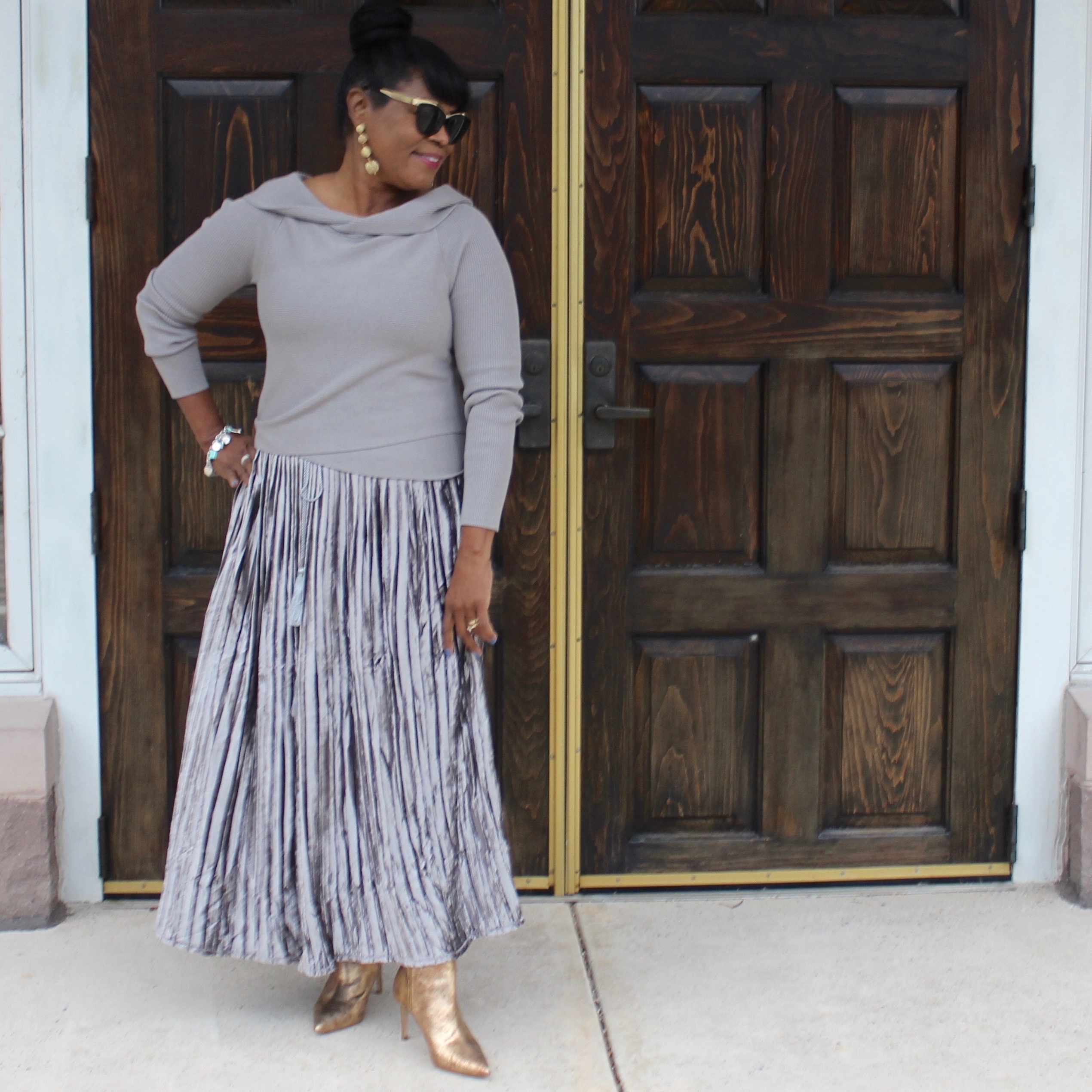 Every day, I receive a plethora of unwanted emails about how to grow my social media platforms. The most welcome online correspondence is the all-inviting select something that represents your style, thank you again Soft Surroundings.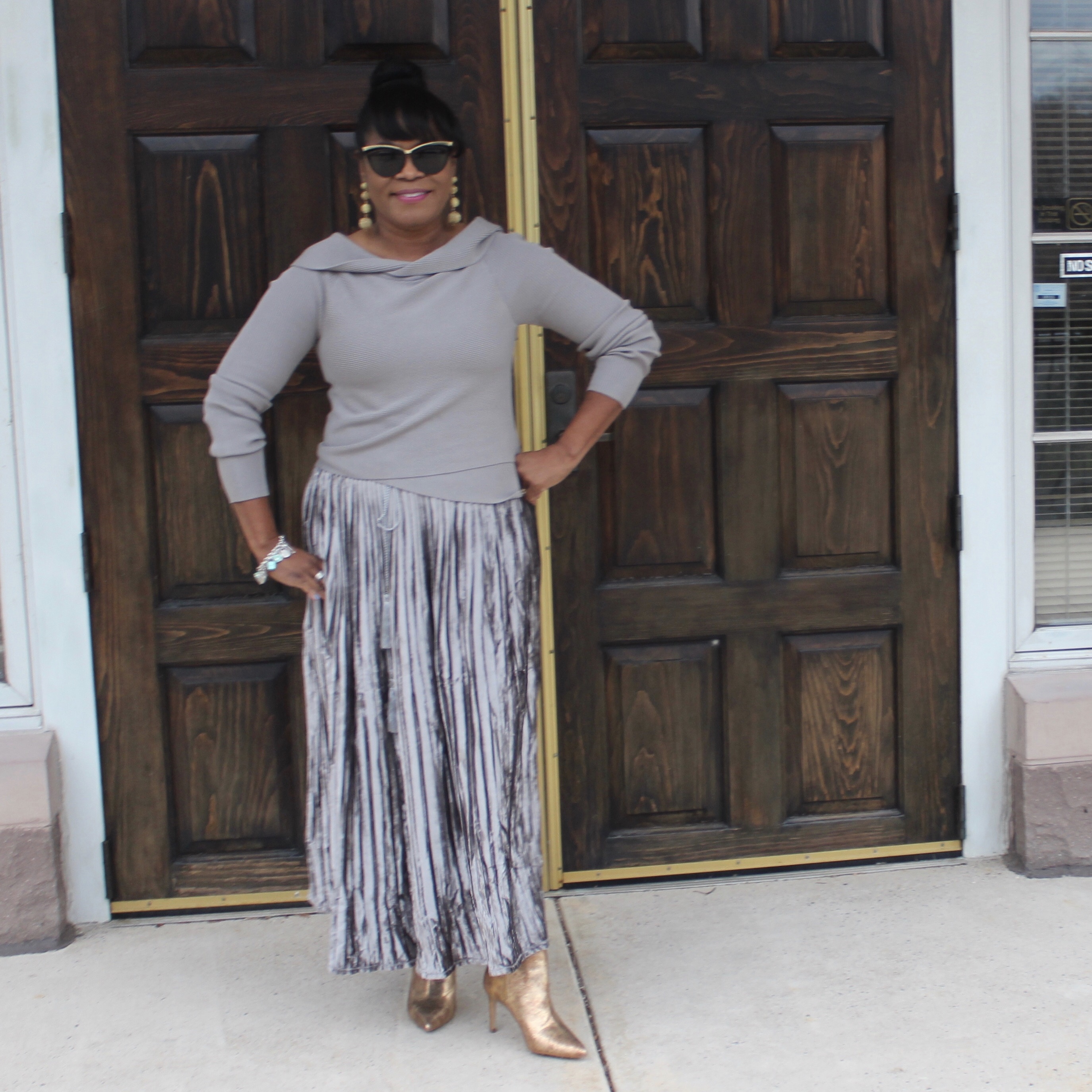 Selecting an outfit from the online Soft Surroundings website was fun and easy. The WInter Collection is chockfull of 100+ new additions of clothing, home decor, beauty products, and unique gifts.
I reminded myself several times that I don't need anything for entertaining this Christmas or decorations. I will need to go back to take a closer look at the fantastic bedding selection.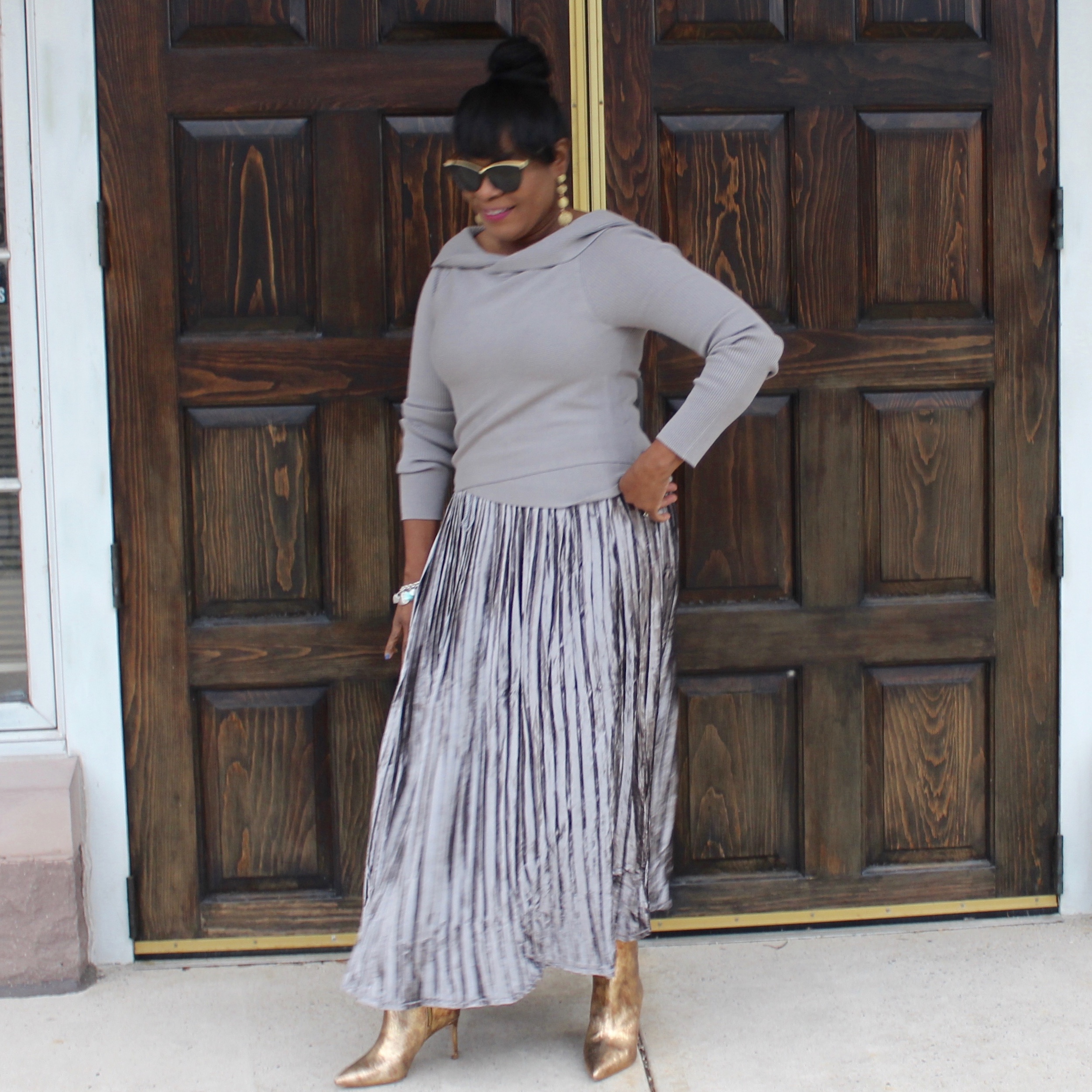 Typically, I get pants and long skirts altered to accommodate my shorter frame. Now familiar with Soft Surroundings sizing, this time I chose the Petite Medium for the Vivian Velvet Pleated Maxi Skirt in festive silver. Fun item -notice the tassels hanging from the elastic waistband? The label says, heavenly soft, I agree.
The Aviva Sweater in Cloudburst color. I selected this sweater because of the flattering cropped styling to streamline the full pleated skirt. The bateau neckline, an elegant drape showing just enough skin to frame shoulders and collarbone. A versatile piece and can work with a jacket or with jeans, very soft and comfortable.
And did you see my gold graduated Felicity earrings? Another score, right on point, and perfect to dress up any holiday outfit.
My conclusion on Soft Surroundings, no grandma clothes here. What you find is a fantastic on-trend selection of basic, business casual, work appropriate, going out with the girls or date night clothing.
Many sizing options too: Misses, Petite, Tall, and Women's. One stop shop for gifts, home decor, and beauty items while holiday shopping or updating your wardrobe.
What's your experience with Soft Surroundings? Please share your thoughts on the Soft Surroundings Vivian Velvet Pleated Maxi Skirt I'm wearing in the comments.
Thank you for reading. Have a wonderful Thanksgiving with your family.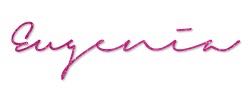 Comments
comments