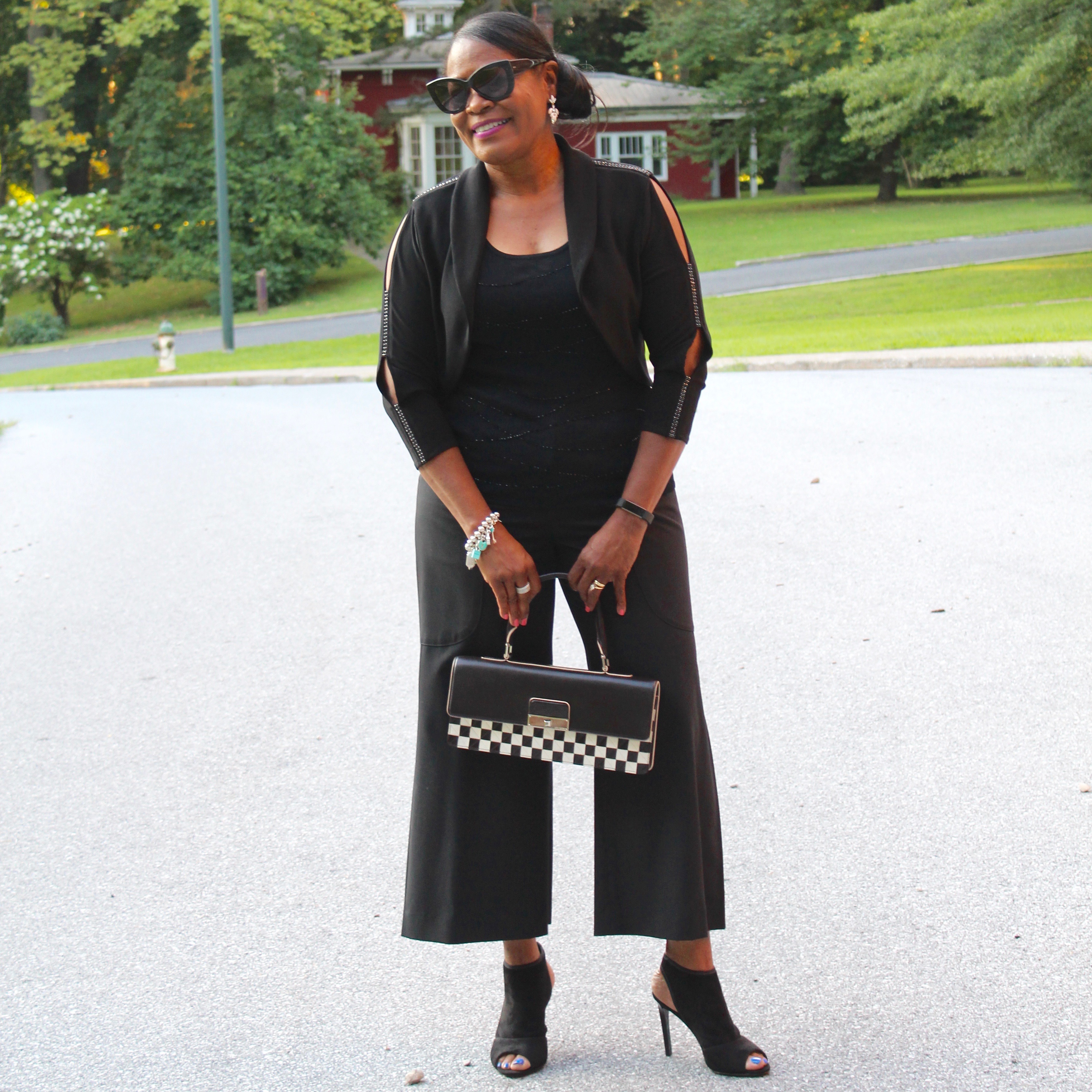 What do the following memorable Alfred Hitchcock films, Notorious, Read Window, To Catch A Thief, Vertigo, Marnie, and The Birds'  have in common?  Edith Head an accomplished costume designer for over 400 classic motion pictures.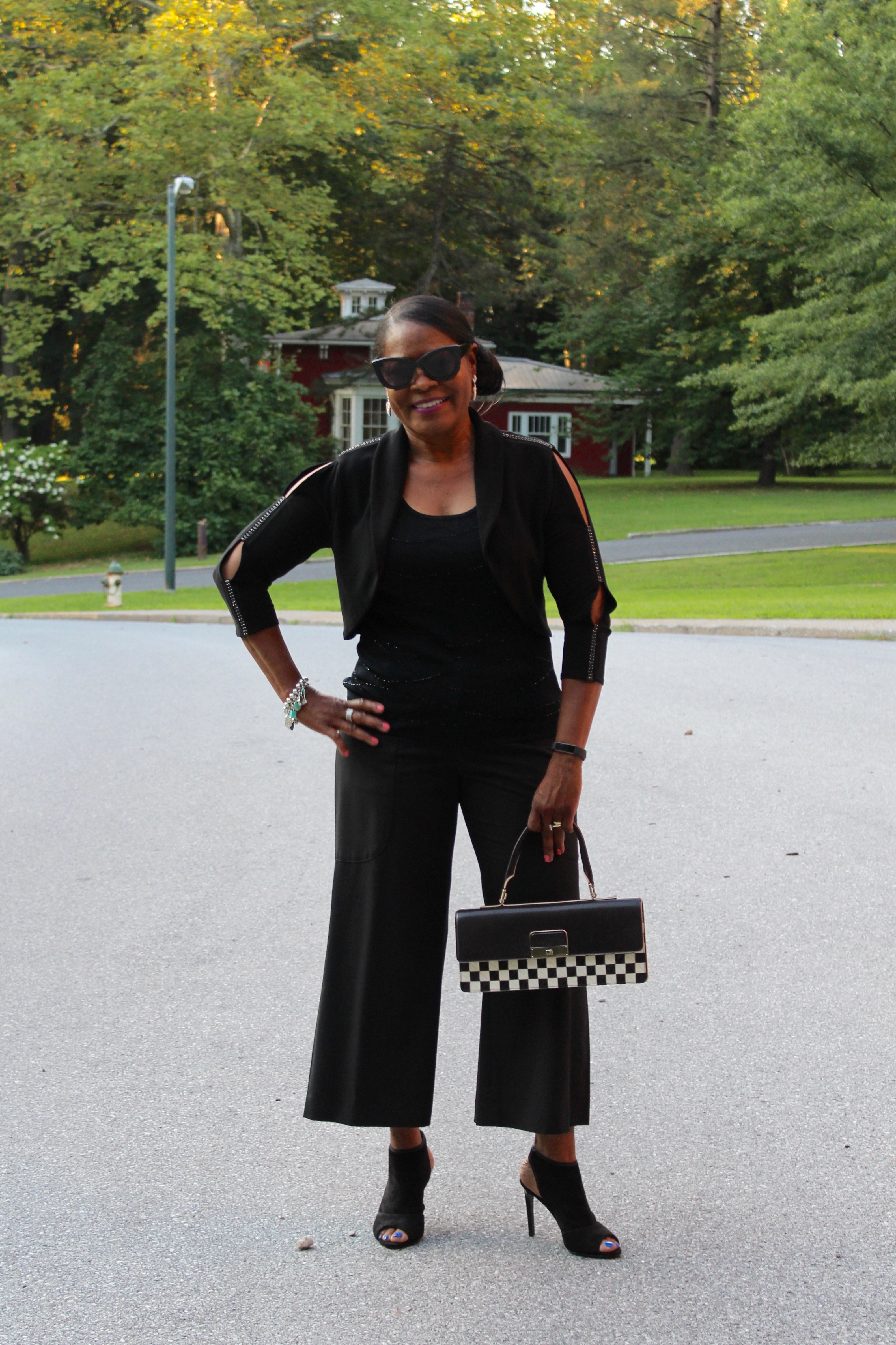 In 2014, my hubby and I celebrated a milestone anniversary when we vacationed in Napa Valley.  While there we ventured north to a small town called Bodega Bay,  the filming location of Alfred Hitchcock's The Birds.'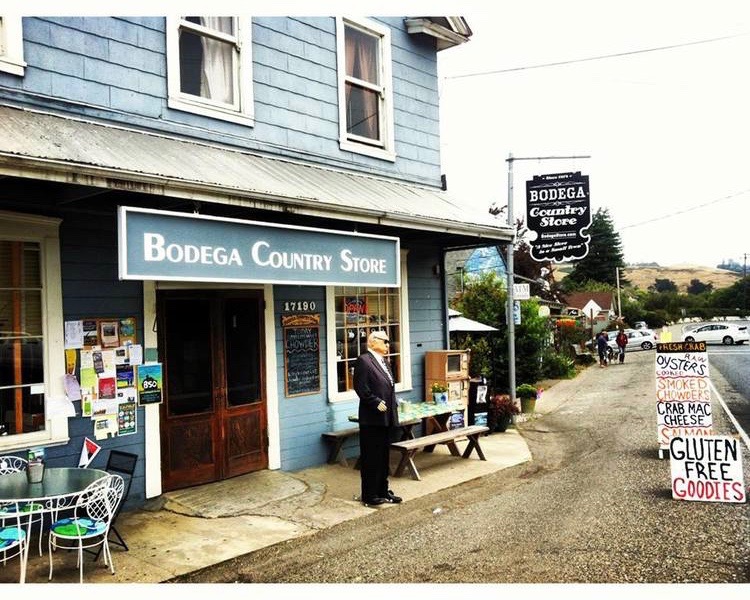 It was as if we stepped back in time when we entered the Bodega Bay Country Store.  Not only could visitors buy groceries, enjoy a light snack, beer or wine but peruse the "Hitchcock Collection."  Anything and everything Alfred Hitchcock collectibles and memorabilia.  The Birds star Tippy Hedren makes an annual visit every year Labor Day weekend.
It was in the Bodega Bay Country Store that I connected with Edith Head.  It was the huge coffee table book "Edith Head: The Fifty-Year Career of Hollywood Greatest Costume Designer"  that drew me in closer.  The book was slightly damaged but worth the purchase (especially since I got a discount).
In case you don't know, one of my passions is watching and re-watching black and white pictures. My daughter says I age myself when I call movies, pictures.  I watch, not just for the storyline but for the days when elegance and sophistication ruled in Hollywood.
Edith Head was a towering figure in Hollywood even though her she stood only 5′ 1½ feet tall.   Edith Claire Posner was born on October 28, 1897, in San Bernardino, California.  She attended U.C Berkley and went on to get her Master's Degree in Romance Languages from Stanford University.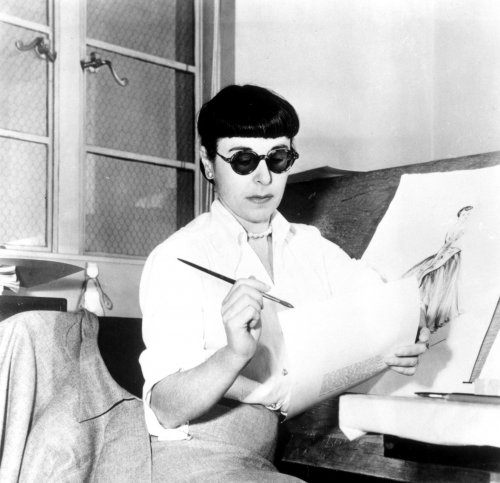 Edith paid her vocational dues before becoming the head costume designer at Paramount Studios. She taught French at the Hollywood School for Girls.  The school needed an art teacher.  Edith secretly took night classes at the Otis Art Institute, and then at Chouinard Art College in Los Angeles.  She supplemented her income by teaching art classes at the Hollywood school.
The soon to be former French and Art teacher applied for a job as a sketch artist in the costume department at the Famous Players-Lasky Studios (later Paramount Pictures).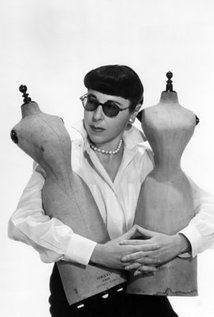 The rest, as it is said, is history.  Edith remained with Paramount for more than forty years. In 1967, at the age of 70, she left Paramount Pictures and joined Universal Pictures, where she remained until her death in 1981.
According to IMDB (Internet Movie Database), Her trademark sunglasses were not "sunglasses" but rather blue lensed glasses.  Looking through a blue glass was a common trick to costumers in the days of Black and White film to get a sense of how a color would photograph.
Now, let's get to my favorite Academy Awarding-winning costumes Edith designed:
All About Eve, 1951
A Place in the Sun, 1954
Rear Window, 1954

Roman Holiday, 1954

The other Hollywood studios routinely loaned out Edith's services, per requests of their big stars. Her client list included Audrey Hepburn, Bette Davis, Barbara Stanwyck, Grace Kelly, Elizabeth Taylor, Veronica Lake, Mae West, Clara Bow, Marlene Dietrich, and Jean Harlow.
Achievements:

When asked about the most important men in her life, Head would always reply:  "There were eight of them – they were all named Oscar."
She was Alfred Hitchcock's favorite designer and is responsible for creating the image of the "Hitchcock Blonde."
In 1974 Edith gets a star on Hollywood Walk of Fame.  She also begins creating sewing patterns for Vogue Pattern Company.
Posthumous Recognition:
As part of a series of stamps issued by the U. S. Postal Service in February 2003. Titled, "American Filmmaking:  Behind the Scenes" commemorating the behind-the-camera personnel who make movies, Edith Head was featured on one to honor costume design.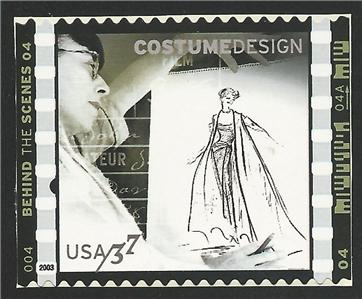 "Edna Mode" in the Incredibles was modeled on Edith Head.
"We ask the public to believe that every time they see an actress or actor that they are a different person".   Edith Head
"Always discreet about the size and shape of the stars' backsides, she knew all about the skeletons in their closets but she was never one to gossip, although she did reveal that full-figured Clara Bow was known as a sausage, that Claudette Colbert was mean-spirited, and that Barbara Stanwyck was frumpy until she took over her designs".
Both Paramount and Universal studios named their wardrobe buildings after her.
Edith did marry twice and divorced both times. She owned a home in the Movie Colony neighborhood of Palm Springs.  She lived comfortably in an updated 1950s Hacienda-style home.
Edith died of myelofibrosis, an incurable bone marrow disease, in 1981.  But her legend lives on, not only in the classic, elegant and sophisticated clothing designs but the character of Edna Mode in The Incredibles.  She was the black-rimmed spectacle sporting eccentric superhero fashion designer.
This quote sums up the costume designer perfectly:  "She managed to make clothes that not only conveyed the moods and ideas behind a screen narrative, but were also beautiful, flattering to the stars, and inspiring to everyday women."
What are your favorite Edith Head costumes? Please share.
Have a fabulous week!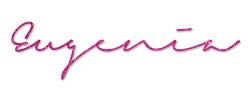 Comments
comments