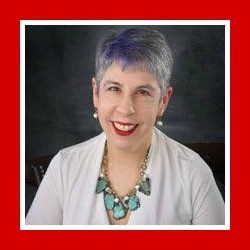 February is American Heart Month to bring awareness to the disease that causes one in three deaths each year. In honor of this, I am going to introduce a new series on the blog, Lady in Red, focusing on women's heart heath. Meet Nina Forrest, an artisan jeweler living in Albuquerque, New Mexico with her husband. Unfortunately, she suffered a heart attack a few years ago and will share her story with us today.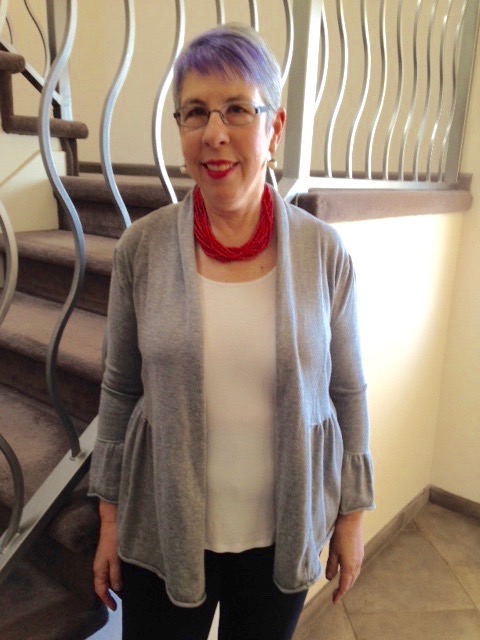 Nina, please share the details of your heart attack. 
On June 20, 2014, I was doing a circuit at Curves gym. It was my third session and I was working with a trainer. My general practitioner told me that I needed more aerobic exercise beyond walking outside and spending time on the treadmill. So, the circuit involves a 12 machine rotation and when I got to the last one, I felt my body go limp. I didn't have any pain anywhere, shortness of breath or any symptoms other than weakness and slight nausea but I knew something was wrong.
My trainer thought I was just tired and suggested that I do some cool down exercises. I couldn't lift my arms though, so after a few sips of water, she suggested that she call an ambulance and though usually stoic, I agreed. When the paramedics came they gave me 5 baby aspirins, performed an EKG, and did some blood work. Not a minute later a doctor came by and said I had a very high level of Troponin, an enzyme only found in the heart and signals a heart attack, and I needed surgery immediately to see what was going on. Fortunately, I didn't need open heart surgery, but I did have two stents put in.  I was in the hospital for five days due to some fluid in my lungs and was on oxygen for a couple of days when I came home.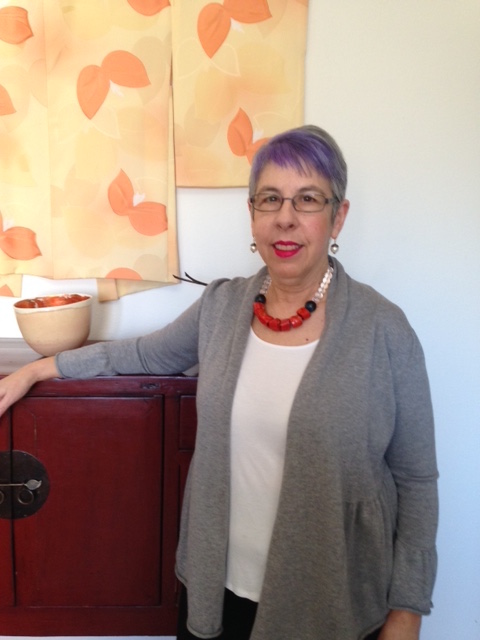 What were the red flags before your heart attack?
I didn't have any red flags related to my physical well being. Of course, we all have lots of stress in our lives. I try to mediate when I felt my stress was overwhelming. My dad died of a heart attack at 83, but I do not believe that is considered a risk factor when a parent or sibling has a heart attack after the age of 60. As far as I know, my mom did not have heart problems. My cholesterol was somewhat high but I was not taking statins and my blood pressure was occasionally high, but the doctor felt it did not require meds.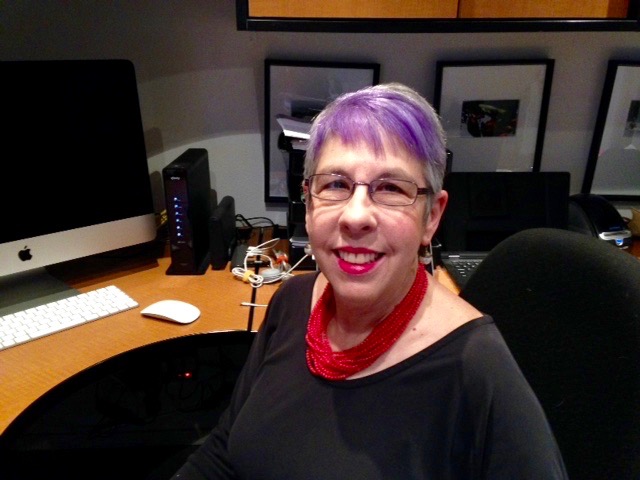 Based on what you know, how is heart disease different in men
versus women?
One of the major differences is that the symptoms for women are often
milder and vague. This was true in my case. One
important thing to be aware of is that when you have no history of heart
disease in the family, you can easily dismiss these symptoms. So it's
import to be aware of them no matter what your health history.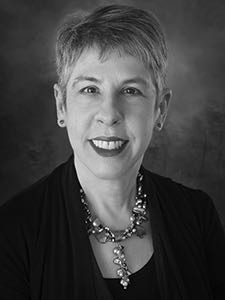 The more a women knows about heart disease, the better chance she
has of surviving it. Because you experienced a heart attack, you made
a commitment with each Nina Forrest Jewelry purchase to share the
warning signs of a heart attack for women. What information do you
share with the women who purchase your jewelry.
I have an insert that I put in with each jewelry purchase that gives 6
symptoms of women's heart attacks, a web site link for more info and
reminder to call 911 if having any of the symptoms. Also, I say I am
donating a portion of my sales to heart causes. Also, I tweet and post on Facebook, info about women's heart health.
What preventive measures have you adopted since your heart attack?
After the heart attack, I was given three months of monitored cardiac rehab which included some classes in nutrition, details on medications, what happens when you have a heart attack, aerobic exercise, and resistance training. My major takeaway from this was the importance of exercise. After a heart attack you are afraid to exert yourself in any way and every twinge in your body is scary. Being monitored by medical personnel during exercise after a heart attack allows you to gradually increase your exercise with the confidence that comes from monitored support. Just to know that it will not cause another heart attack is enormously reassuring. Previously, I was occasionally walking outdoors and going on my treadmill, doing a one on one Pilates class one a time a week and, as mentioned, had just started an additional cardiac program when I got sick. Now I go to the gym two times a week regularly and continue my Pilates. I also regularly go on my home treadmill on the other days. I'd like to remind readers 65 or over to check if there health plan covers the Silver Sneakers program which allows seniors to go to a gym in their area at no cost (most fitness centers are on the list if you're covered).  If you have heart attack risk factors in your family, talk to your doctor about what preventative actions you specifically need to take.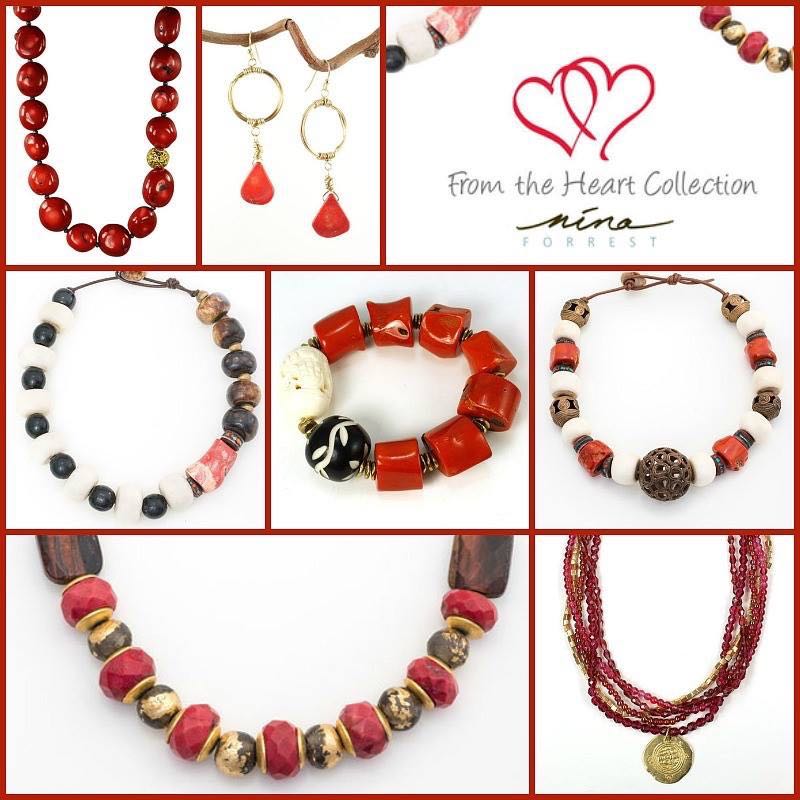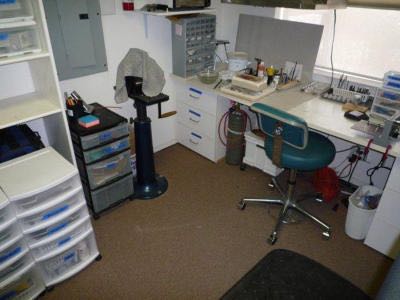 How did you find your way into being an artisan jeweler?
After years of being a passionate crafter — sewing, knitting, painting and dying textiles — my jewelry design journey began one day in 2005 while visiting a local Albuquerque bead shop. I spotted some simple necklaces: silk cords strung with crystal beads. Taken by their easy elegance, I picked up a few supplies, starting stringing my own necklaces, and was soon swept up in a creative whirlwind that took me from metal smithing to wire wrapping to enameling.
It is the most endless source of creative expression I have ever experienced. I love the 'aha moment' when the piece is completed and it is just the way I want it. And the satisfaction I get when a client says: "I got so many compliments when I wore the piece I purchased and I love it!"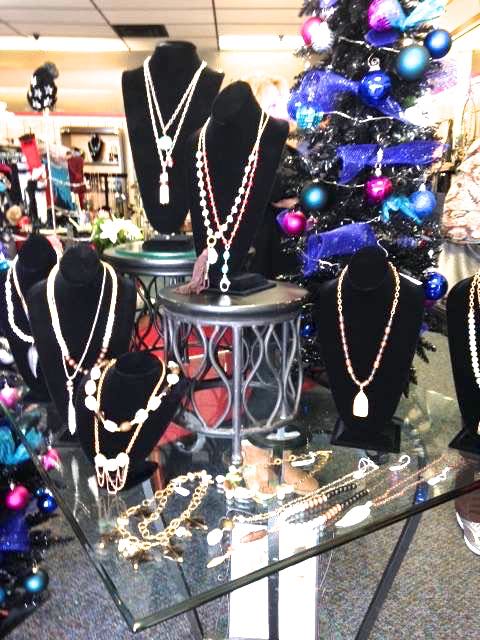 I follow you on Facebook and Instagram, I saw in December
your collection was shown at Silk Road Connection, a local boutique in
Albuquerque. Tell us about that unique opportunity to share your
jewelry and expand your business.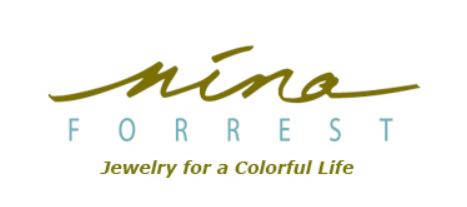 My dream of a handmade jewelry business came to pass in 2005 in the form of Jewelry for a Colorful Life my line of handmade, limited edition, statement jewelry, Each piece in this collection reflects fashion strength, savvy and sophistication. I was at a fashion show last October and I met the owner of the Silk Road Collection boutique here in Albuquerque. She commented on my lapis necklace and when I told her about my work, she immediately asked if I would like to do a trunk show at her boutique. We had a great show last December and she is now featuring my pieces in her store.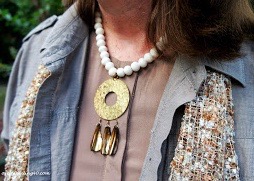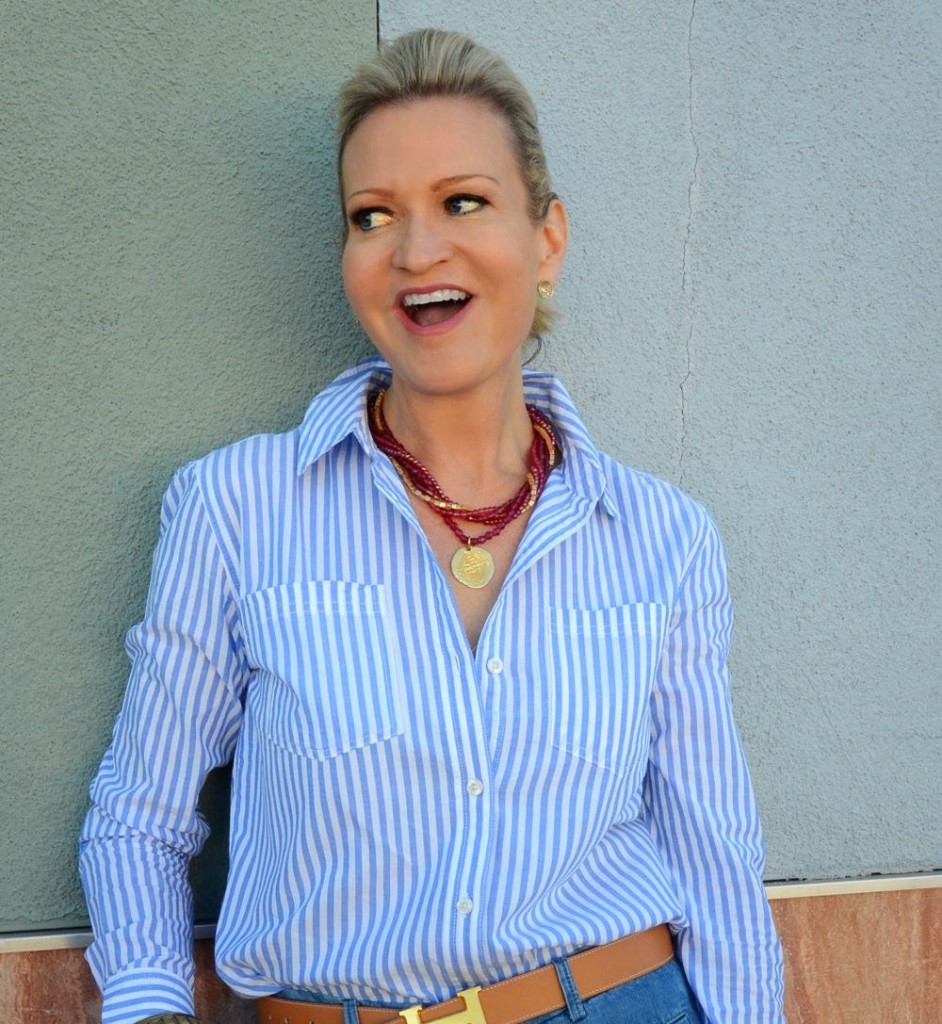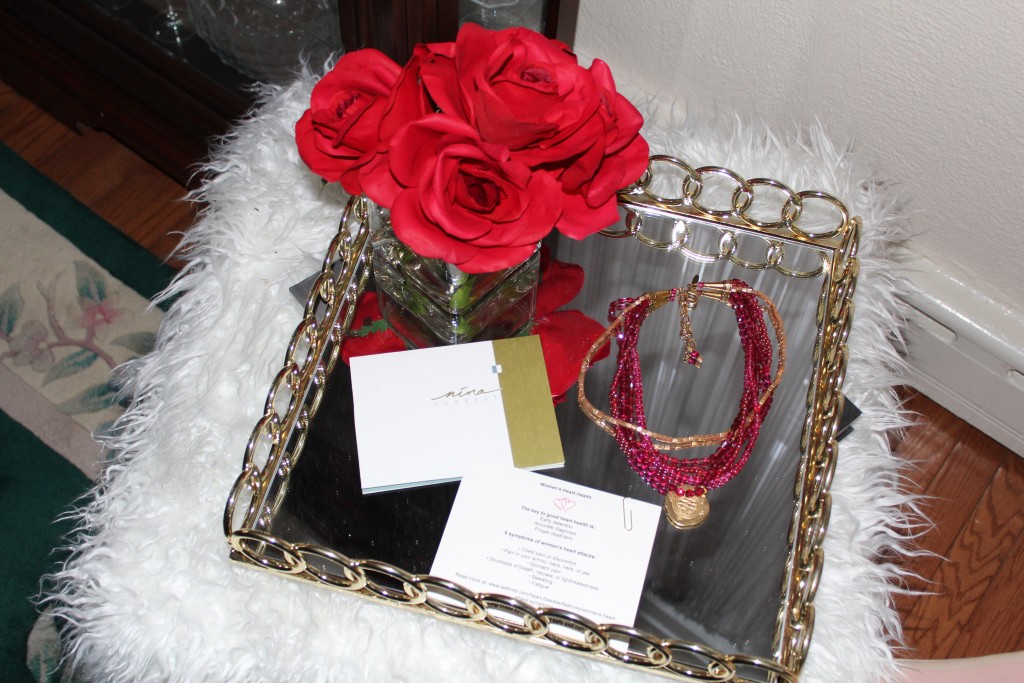 I'm not the only one who loves wearing Nina Forrest jewelry for a colorful life.  So do fellow bloggers, Pamela Lutrell of Over 50 Feeling 40  and Jamie Lewinger of More Than Turquoise. You can check out Nina Forrest Jewelry for yourself at her online shop.
Ignorance alone could be responsible for more than 15,000 women who die each year from a heart attack in the United States. Make sure you're aware  of the symptoms. Seek medical treatment immediately if in doubt.
Heart attack symptoms that are common in women:
*Extreme fatigue
*Sleep disturbances
*Chest, back, neck or jaw pain
*Indigestion/Stomach pain
*Flu-like symptoms
*Anxiety
*Shortness of breath, nausea, or lightheadedness
*Sweating
National Wear Red Day® is Friday, February 5, let's all do our part, by wearing red to help bring about awareness, intervention, and education to women about heart disease and stroke.
I hope Nina's story at a minimum gives you an awareness of what a heart attack could look and feel like. Please know the warning signs.  Thank you Lady in Red, Nina, for allowing me the opportunity to share your heart health experience.
Have fabulous week!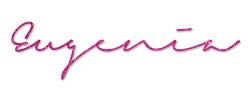 Comments
comments