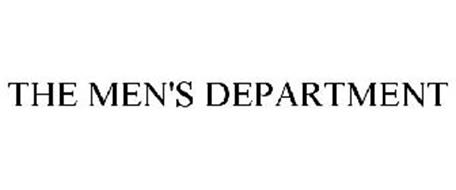 I remember when I would visit any of the many Center City department stores in Philly, I had the option of taking the escalator or the elevator to the area that I wanted to shop that day.  When you took the elevator, there was someone stationed in the elevator to direct you to that respective department on each floor. Today, I want to take on that role for you. Consider yourself stationed in my elevator. Going up!
I want to share with you, my visit to the Men's Department, specifically the men that influenced my growth and development: my Dad and grandfathers.
Growing up in the big-city Philadelphia during the late 60's and 70's–clearly wasn't a cake walk with the historically and culturally turbulent times for African Americans.  I have vivid memories of my parents purchasing their first home in the Germantown section where many other working class families lived, worked, played, educated and instilled values in their children in the quiet well-kept community.
I remember my Dad organizing block parties, designating clean street days where nearly everyone came out to clean, socialized and participate, it was a time when you knew your neighbors.  I can recall those hot summer days when he would get permission to turn the fire hydrant on so all the children on the block who didn't have a pool could cool off because of the extreme hot temperatures during the summers.  I even remember when he participated in the 1963 March on Washington for Jobs and Freedom.
My older brother and I had to attend the mandatory Gene Russell Summer School, i.e my Dad purchased summer home-school curriculums for us to do every summer.  Most times when other children were playing, we had to be inside to complete our assignments, but when it was extremely hot we did get to indulge in the cool water of our backyard pool. We were always anxious to complete our assignments so we could go play until the street lights came on.
My Dad made me read the Philadelphia Bulletin everyday to learn about current world events and to increase my vocabulary, I still enjoy reading newspapers everyday, I set aside time every Sunday to read the New York TImes.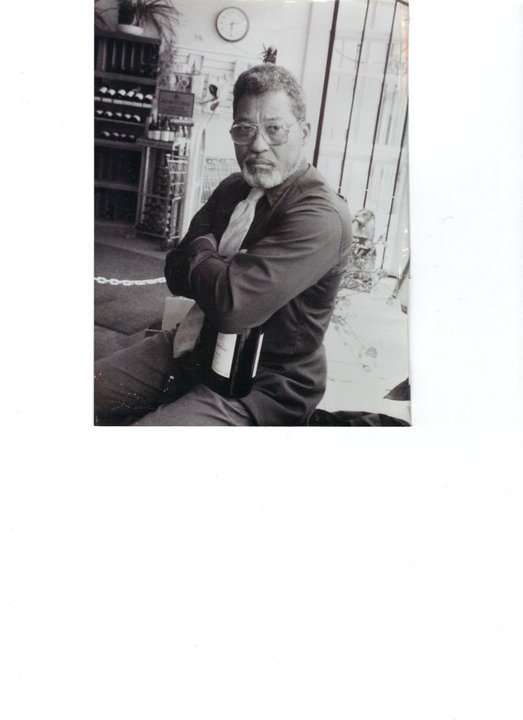 Photo of my Dad, Gene O. Russell
Now my Dad's Dad who we fondly called "Russ," was a chef, my Nana was fortunate that she almost never cooked. He worked at Horn & Hardart  (some of you may remember this first automated restaurant) and owned his own restaurant at 19th and Rittenhouse Streets until his retirement in the late 1950's.
My fondest memory, I can recall my grandfather having a wrought iron fence put around their home for when his grandchildren visited especially the granddaughters because at the time there were only two granddaughters, cousin Tish and I.   He didn't want the "10 boys to come around."  I can remember the enclosed yard had everything a child could want for fun (playhouse, pool, bikes, and swingset).  I can see him smoking his pipe while listening to baseball on his transistor radio.  My "Russ" lived to the ripe old age of 92 in 1992.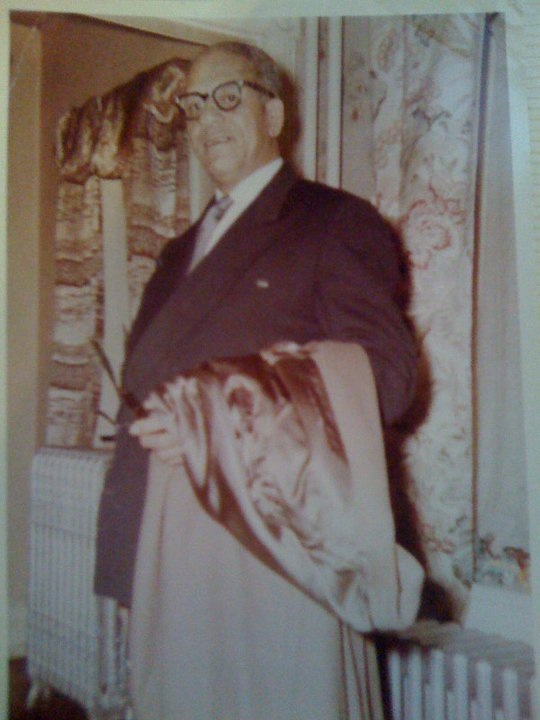 Photo of Paternal Grandfather Robert "Russ"  Russell (June 10, 1900 – October 30, 1992)
My Mom's Dad, we called Grandpop, he was a big guy, a mason/laborer who liked to play baseball in his free time. My memories of him include coming to my parents second home in Mt Airy, nearly always bringing his Bible.  Widowed at a fairly early age, he would bring fresh produce from the Italian Market on South 9th Street to share and cook with our family.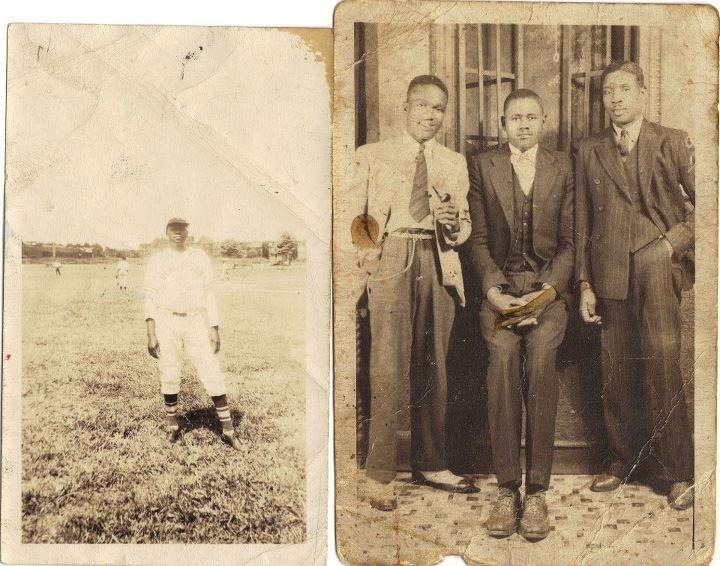 Photos of Maternal grandfather, Robert Lee Davis (February 28, 1908 – August 20, 1989) (big guy in the middle of second photo)
Thank you for riding up in my elevator of memories as I acknowledge the men that made an lasting  impact on my life, I still don't believe that a holiday is necessary to recognize a loved one but I did have fun thinking back on how my Dad and both grandfathers have impacted my life.   I don't talk to my Dad like I do my Mom but I loved that I can text him, emailed him and he is a Facebook friend so we can stay connected. What sweet memories do you have of  male influences in your life.
Comments
comments